Liberal Arts: Mathematics and Natural Science (Chemistry)
---
TRANSFER DEGREE
MIDDLETOWN CAMPUS
NEWBURGH CAMPUS
DISTANCE LEARNING
---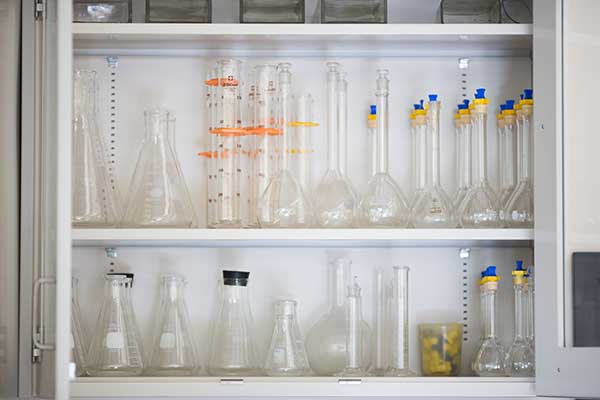 Program Description
The chemistry track at SUNY Orange will provide students with the skills and knowledge to begin a career in the field of chemistry or for transfer to upper division universities. There, students will be prepared to study chemistry and related fields required for professional schools, including medical, dental, law and business programs.
For more information, visit the SUNY Transfer Path website.
This degree has been approved by SUNY and NYS Education Department for online distance learning delivery. This does not mean that SUNY Orange offers every course in the program online; however, many are offered in this format. Please check the current credit course schedule for online DL virtual course listings offered each semester.
Career and Transfer Focus
Chemists find employment in many fields that:
Discover new, groundbreaking materials
Synthesize lifesaving pharmaceutical medicines
Develop cutting edge technology used in industry, military, and other government agencies
Design solutions for a more environmentally friendly and greener tomorrow
Analyze materials in forensics science and quality control
Chemistry is one of the main undergraduate degrees accepted at medical schools. Chemists can also lead the future by educating our next generation at the high school or university level.
Our chemistry students often transfer to four-year institutions to earn a bachelor's degree. Many students continue their studies towards a master's degree or a Ph.D.
Three Reasons to Consider the Chemistry Track in Liberal Arts: Mathematics and Natural Science
A rigorous and exciting program where you are taught and advised directly by chemistry professors with many years of experience in a personalized classroom environment. We want to get to know you and are here to help you to succeed.
You will work with a close cohort of chemistry students and will be able to develop social connections and establish a system of academic support. You will be able to network through former students.
You will get hands-on experience in the laboratory with the same chemistry professors as your lecture. There are no teaching assistants at SUNY Orange.
Program Outcomes
Students will:
demonstrate essential and foundational knowledge in the natural sciences and liberal arts.
demonstrate understanding of the methods scientists use to explore natural phenomena, including observation, hypothesis development, measurement and data collection, experimentation, evaluation of evidence, and employment of mathematical analysis
perform mathematically with proper notation and vocabulary commensurate with chosen field of study
demonstrate ability to apply systematic reasoning and critical thinking skills
demonstrate effective communication both oral and written
transfer to, and succeed at, an upper-level institution
Keep This in Mind
Chemistry lectures are taught without a textbook and with minimal required materials which saves you money!
Required courses for the program have small lecture (no more than 30 students) and laboratory (no more than 20 students) sizes, allowing you to directly interact with faculty.
Chemistry Club allows you to visit laboratories and industries, network with others in the field, build relationships with peers, and help spread interest of the field to high school and elementary students.
This program requires a sound understanding of mathematics and a passion for learning and chemistry
Admissio Criteria
Admission to this program requires that students be high school graduates or have high school equivalency diplomas (HSEs). If students are not high school graduates, they may be eligible for admission to the College's 24 Credit Hour Program. If students are home schooled, they may be eligible for admissions.
Before initiating study for this A.S. degree a student must have achieved a mathematical proficiency which includes intermediate level Algebra. At SUNY Orange, this means that a student must have tested beyond MAT 102 (Intermediate Algebra) to begin progress toward this degree. If this is not the case, the student must speak with an advisor in order to choose the proper preparatory courses.
Transfer Options
SUNY Orange has special relationships with upper-level colleges and universities for transfer. Students regularly transfer with junior status to colleges and universities in the State University of New York System as well as to private and state colleges and universities across the country.
Your Career Coach
Career opportunities exist in the following areas:
professional degrees or working in private sector firms in the various fields
R&D or laboratory opportunities in private and public sector
positions in education on primary or secondary level
chemistry
geology
mathematics
physics/astronomy
excellent background for other fields requiring mathematics/science proficiency, including:

biology
pre-professional training for medicine, dentistry, veterinary science, pharmacy, etc.
environmental sciences

teaching or research
Program Availability Status
This degree is only available during the day at the Middletown campus but many portions can be taken in the evening, during the summer, and at the Newburgh campus.