Performing Arts: Music
---
CAREER DEGREE
MIDDLETOWN CAMPUS
---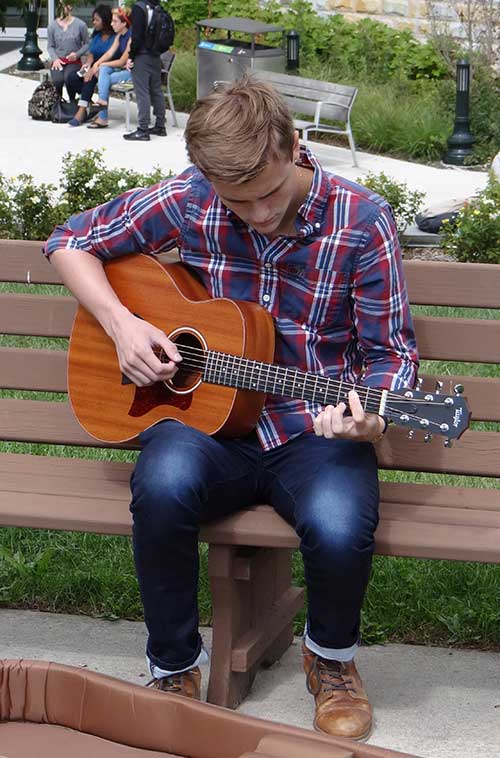 Program Description
The Associate in Applied Science degree program in Performing Arts: Music prepares graduates for employment in a field connected with music or possible transfer to a bachelor's degree music program. Students select one of three emphasis areas: Music Performance, Jazz and Commercial Music or Music Business. For those seeking transfer, an articulation with SUNY Purchase has been established giving students the opportunity for seamless transition to a four-year program.
The program includes core courses in music history, theory and related musicianship skills, piano, instrumental or vocal performance, acoustics, and music business. Performing ensembles enable students to learn in active, collaborative settings and offer ongoing service and enrichment to the College and community through a variety of musical performances. Courses in arranging and improvisation are required for students choosing the Jazz and Commercial option. Students selecting the Music Performance or Jazz and Commercial options must complete four credits of private music instruction with a department-approved teacher and are responsible for the private instructor's fee. Detailed course descriptions appear in the course description section of this catalog. Please note that not all courses are offered in the evening.
An ongoing visiting artist series enables students to learn directly from some of the best contemporary performing artists in specialized workshops. Many of the courses required in the program fulfill New York State general education requirements and thus are easily transferable within the SUNY system.
A Day in the Life ...
Graduates will use the skills and knowledge they gain to build musical careers ranging from performance to education to various music industry positions. They will also be well prepared to continue their studies at a four-year institution.
Three Reasons to Consider Performing Arts: Music
Affordable, high-quality music education close to home, provided by dedicated and experienced faculty who are passionate about music and about teaching.
Learn music theory and history and perform in a music ensemble.
Grow in your musical creativity and musicianship!
Program Outcomes
Students will:
demonstrate proficiency in music theory, notation, harmony and part-writing
apply their knowledge of music theory, notation and harmony at the keyboard
demonstrate proficiency in sight reading on their instrument and sight singing
notate musical materials from dictation
demonstrate proficiency on the piano through the performance of standard repertory
perform in an instrumental or vocal ensemble
demonstrate knowledge of music history, musical styles, genres and composers
demonstrate fundamental understanding of music business
demonstrate fundamental understanding of acoustics
Keep This in Mind
As with any craft, practice is key to success. Successful students dedicate significant time and effort in order to thrive in our rigorous program.
Performing ensemble classes require participation in live concerts, sometimes in the evening or on weekends.
Required private instruction on your instrument or voice will involve additional expense.
Admission Criteria
Admission to this program requires that students be high school graduates or have a high school equivalency (HSE) diploma. If students are not high school graduates, they may be eligible for admission to the College's 24 Credit Hour Program. If students are home schooled, they may be eligible for admission.
Note: Although this is an open admissions program, music placement assessment is required for registration into certain courses. Consult with an Arts and Communication Department music faculty member.
Transfer Options
Although the A.A.S. is designed primarily as a professional degree, many graduates do transfer to baccalaureate programs at other colleges. The program prepares students for successful results on theory placement assessments and auditions leading to acceptance into such programs. SUNY Orange enjoys an articulation agreement with SUNY Purchase guaranteeing acceptance and transfer of all SUNY Orange credits assuming basic entrance criteria are met.
Your Career Coach
Career opportunities exist in the following fields:
performing/recording artist
record production
music composition
music education
media careers
music retail/wholesale
music publishing
music law
music management/ promotion
publicity
facility/concert management
music therapy
journalism
music library science
instrument construction/ repair
Note: Some careers require training beyond the two-year degree.
Program Availability Status
This program is primarily available during the daytime on the Middletown campus. Some required courses are offered in the evening.