Visual Communications Technology: Graphic Arts/Printing
---
CAREER DEGREE
MIDDLETOWN CAMPUS
DISTANCE LEARNING
---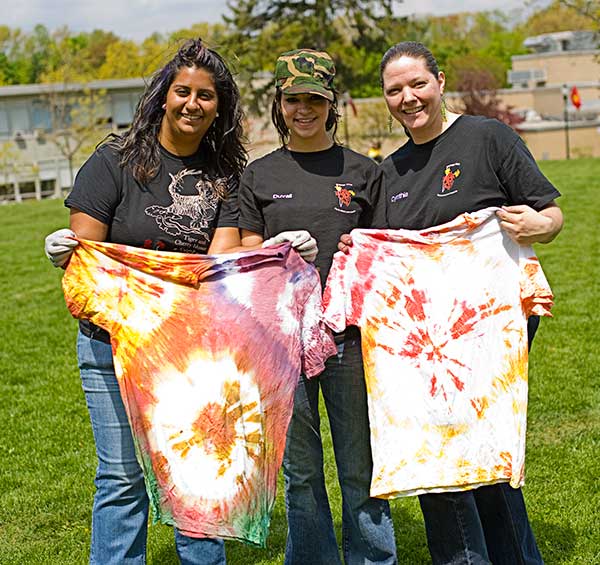 Program Description
The Associate in Applied Science degree program in Visual Communications Technology: Graphic Arts/Printing prepares graduates in all aspects of visual communications and graphic design. These include layout, production, typography, commercial print processes, illustration and computer graphics for entry level positions in graphic design, printing, publishing, desktop publishing, advertising, marketing, presentation graphics, game design, animation, multimedia and communications. As a result, the program prepares students for successful portfolio reviews leading to acceptance into B.A. or B.F.A. programs
Beginning with Visual Communications 1, students are introduced to visual communications theories, graphic design principles, elements, typography, influential persons and contemporary digital media. The curriculum offers sequential visual communications and graphic design courses, complemented by a broad offering of studio art and art history courses. After taking core courses in the first year, the student selects a concentration area in either photography, painting, figure drawing, or web design in the second year. Concurrently, the student completes the Visual Communications course sequence culminating with Viscom 4, the portfolio development course. Our Practicum course offers the Viscom student the opportunity to experience an internship with local businesses or departments within the College.
Through an articulation agreement, qualified BOCES candidates can enter the A.A.S. degree program, and receive credit for certain first-year courses. After completing the program, students may either enter the workforce or transfer into a bachelor's degree program.
This degree has been approved by SUNY and NYS Education Department for online distance learning delivery. This does not mean that SUNY Orange offers every course in the program online; however, many are offered in this format. Please check the current credit course schedule for online DL virtual course listings offered each semester.
A Day in the Life ...
Graduates will use the skills and knowledge they gain to build careers in all aspects of visual communications and graphic design. These include advertising, marketing, animation, web design, illustration, publishing and printing. Students will also be well prepared to continue their studies at four-year institutions.
Three Reasons to Consider Visual Communications Technology: Graphic Arts/Printing
The Practicum course and many competitive challenges provide real world experience.
The program provides a solid foundation to pursue a multitude of career paths.
Exceptional faculty provide expert critical analysis and technical expertise in all areas of the curriculum to every student.
Program Outcomes
Upon successful completion of this program, students will be able to:
assume entry-level positions in visual communications and/or placement in upper-level programs of study
demonstrate fundamental concepts and processes of visual communications and graphic design
demonstrate an understanding of the visual communications industry and career opportunities in the field of visual communications
demonstrate proficiency in industry-standard technology including hardware and page layout, digital imaging, vector drawing, presentation and web design software
produce a portfolio appropriate for entry-level roles in visual communications and/or continuing education in upper-level programs
Keep This in Mind
Students must complete a two-course concentration area in painting, figure drawing, web design, photography or digital photography.
Through elective choices students may focus on areas of particular interest to them such as painting, figure drawing, art history, new media, marketing, etc.
ART 230 (Arts and Communication Practicum) includes a 45-hour internship. Students are matched with sites that are related to their goals.
The curriculum offers sequential Visual Communications and Graphic Design courses culminating with VisCom 4, the portfolio development course. VisCom 1 is offered in the Fall and Spring; VisCom 2 is offered in the Spring; VisCom 3 is offered in the Fall; VisCom 4 is offered in the Spring.
Admission Criteria
Admission to this program requires that students be high school graduates or have high school equivalency diplomas (HSEs). If students are not high school graduates, they may be eligible for admission to the College's 24 Credit Hour Program. If students are home schooled, they may be eligible for admission.
Transfer Options
Although the Associate in Applied Science degree is designed primarily as a professional degree, many students do transfer to baccalaureate programs at other colleges. Many of the courses in the program fulfill New York State general education requirements and thus are easily transferable within the State University of New York system.
Presently SUNY Orange has an articulation agreement with Cazenovia College. Many other students have successfully transferred to
Fashion Institute of Technology
Parsons The New School for Design
SUNY Albany
SUNY New Paltz
SUNY Oneonta
SUNY Purchase
School of Visual Arts
Your Career Coach
Career opportunities exist in the following fields:
graphic design, advertising design and marketing
publishing, desktop publishing and printing
game design, web design, animation and multimedia
art direction, illustration, digital photography and color correction
Program Availability Status
This program is offered essentially during the daytime on the Middletown campus, with limited availability of some classes in Newburgh and during the evening. Please note that not all courses are offered in the evening.