Radiologic Technology
---
CAREER DEGREE
MIDDLETOWN CAMPUS
---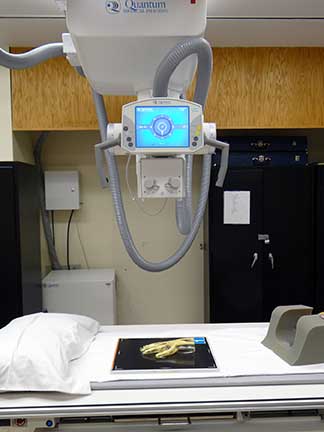 Accredited by
Joint Review Committee on Education in Radiologic Technology (JRCERT)
20 N. Wacker Drive, Suite 2850
Chicago, IL 60606-3182
Phone (312) 704-5300 | website: www.jrcert.org
Program Description
The Associate in Applied Science degree program in Radiologic Technology prepares students to apply to take the Registry examination in Radiography offered by the American Registry of Radiologic Technologists to become a radiographer. An essential member of the healthcare team, the radiographer positions body parts accurately and manipulates radiographic equipment to produce a quality diagnostic image with the least amount of radiation necessary.
The Radiologic Technology program is dedicated to providing each student with the educational activities necessary to develop the required critical thinking and technical and interpersonal skills of the radiographer. The highly skilled radiographer is educated in properly caring for the patient's needs during the radiographic examination, manipulates radiographic and computerized equipment, as well as adheres to protocols in bedside and operating room areas, selects technical factors and diagnostic parameters, instructs and assists the patient in order to obtain the necessary positioning, demonstrates appropriate application of radiation safety principles of "time, distance and shielding," in order to protect the patient, self and others, exhibits care and accuracy in the administration, preparation and disposal of drugs and contrast agents.
Note: The Radiologic Technology program, as well as the field of radiologic technology, is a rigorous one. Program standards are not altered for disabled students. The College will make every effort to provide reasonable accommodations to students with disabling conditions.
A Day in the Life ...
Radiographers work as part of the healthcare team in a variety of areas such as the operating and emergency rooms, urgent cares, orthopedics, private practices and many other locations. Radiologic Technologists provide patient care, use technical equipment, and positon patients to obtain quality images of various body parts using radiation (x-rays) with the least dose possible.
Three Reasons to Consider Radiologic Technology
The program at SUNY Orange has taught students to become radiologic technologists since 1989; that's more than 30 years!
Over the history of the program, our National Boards pass rate is higher than 99%.
There is job security in healthcare. Employers consistently seek to hire our graduates. Plus, let's face it, looking inside someone's body is pretty amazing.
Program Outcomes
Program Goals:
Students will demonstrate critical thinking skills
Students will demonstrate clinical competence in relation to their knowledge and technical skills
Students will exhibit professional behavior
Students will demonstrate effective written and oral communication skills
Student Learning Outcomes:
students will perform routine radiography exams
students will perform non-routine radiology procedures
students will evaluate radiographs for diagnostic quality
Students will demonstrate knowledge through Clinical Test Exams
students will practice patient safety and radiation protection
students will demonstrate professional behavior
students will demonstrate effective oral language skills
students will demonstrate effective writing skills
Keep This in Mind
After graduating and passing the national boards, you can advance to learn Computed Tomography, Magnetic Resonance Imaging, Mammography, Interventional Procedures or a variety of other diagnostic modalities, as well as management/administration roles.
You need excellent communication and interpersonal skills to work with patients, doctors and various members of the healthcare team to provide the best possible outcomes for patients.
The profession requires great attention to detail not only in reviewing the patient's images, but also recording patient histories, medical charting, exam verification and other tasks where details are extremely important related to medical records and care.
Yes, we have to touch patients and see blood! There's an odd, yet common, misconception that radiographers don't have to talk to patients or touch them and will never see blood, which is very inaccurate. For more details see "What they don't tell you about Radiology" on the department website.
Admission Criteria
Academic requirements:
high school diploma or HSE
eligible to take ENG 101 (Freshman English I)
eligible to take MAT 121 (College Algebra), or have completed MAT 102 (Intermediate Algebra) or equivalent with a 2.0 or higher
completed High School AP Biology (score of 3, 4, or 5) or a passing grade in the Biology CLEP examination; or introduction to Biology or Anatomy and Physiology 1 with a grade of 2.0 or better (within 5 years of program entry)
minimum cumulative GPA of 2.5
Optional Group Interview: All applicants found eligible during the admissions process will have hte opportunity to interview in order to earn an additional 15 points maximum towards a seat in the program. Eligible students will be contacted in early March. Should an eligible student choose not to participate, the student forfeits the opportunity to earn additional points in hte review process. Points earned stand for three years after which students can interview again. For more information, please see the Diagnostic Immaging Department webpage.
Department-specific requirements:
attendance at a pre-admission orientation. At this orientation, students will receive and sign off on information pertaining to the Radiologic Technology program including technical standards, health forms, and criminal record policies.
Note: Admission to this program is selective. In addition to an application to the College, students must apply for acceptance into this program through the Admissions office. Consideration for admission is based on the completion of all mandatory academic and departmental-specific requirements, highest combination of CGPA and credits completed towards the degree, and seat availability. All requirements must be completed and an eligibility form must be submitted to the Admissions Office before February 1 in order for a student to be considered for acceptance into this program for the Fall semester.
At the time prospective students submit their applications to the American Registry of Radiologic Technologists and the New York State Department of Health, they must make a statement about their conviction record, if any. If they would have to answer "yes" to a question about a felony conviction, they should contact the NYS Department of Health (518) 402-7580 AND The American Registry of Radiologic Technologist (651) 687-0048. Both of these agencies MUST be contacted to determine if students will be eligible to sit for the certification exam and/or to be licensed.
Transfer Options
The A.A.S. degree is primarily intended to prepare students for immediate employment. However, some graduates have gone on to further study in radiation therapy, nuclear medicine, cardiac catheterization and education.
Your Career Coach
Career opportunities
hospitals, clinics, medical imaging centers, doctors' offices, educational facilities and equipment manufacturers as:
radiographers and special procedures technologists
mammographers, CT technologists and MRI technologists
nuclear medicine technologists, PET/CT technologists
radiation therapists
sales personnel, educators, clinical instructors and hospital administrators
Program Availability Status
Admission to the program is competitive with more applicants than there are seats. The application deadline is February 1. Each year, we accept 24 students who start their academic sequence in the Fall semester. Courses are offering during the daytime on the Middletown campus.