Public Health
---
TRANSFER DEGREE
MIDDLETOWN CAMPUS
DISTANCE LEARNING
---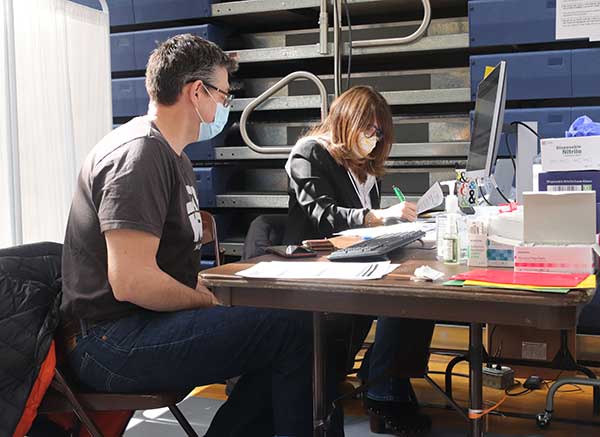 Program Description
The Associate in Science degree program in Public Health is designed specifically for students to transfer to the appropriate upper-level college or university of their choice, where they can complete a B.S degree in Public Health or their chosen field of study. As such, the program provides core courses in Public Health and general education requirements that would be included in the first two years of study at four-year institutions. This degree program provides students with foundational knowledge in public health that can also be used in a wide range of professions and many other health-related fields. Public Health professionals work within a variety of settings including state and local health departments, hospitals, workplace wellness programs, government agencies, educational institutions, research organizations, and international development agencies.
This degree has been approved by SUNY and NYS Education Department for online distance learning delivery. This does not mean that SUNY Orange offers every course in the program online; however, many are offered in this format. Please check the current credit course schedule for online DL virtual course listings offered each semester.
Offered through the Hudson Valley Educational Consortium (www.sunyorange.edu/hvec/)
Career and Transfer Focus
Public Health is the study of protecting and improving the health of entire populations. Public Health professionals engage in research, disease and injury prevention, and detecting, preventing and responding to infectious diseases. The Public Health degree focuses on preparing you to transfer to a 4-year college program in Public Health. The Public Health degree is a specialized degree that will set you on the path to becoming a Public Health professional.
Three Reasons to Consider Public Health
SUNY Orange has articulation agreements with several four-year colleges to allow you to seamlessly continue your public health studies there.
You will study the history, philosophy, and core concepts of public health. In addition, you will learn the basic concepts of scientific inquiry and evidence-based research applied to public health service.
Instructors are dedicated to student-centered learning that focuses on what you need to know and be able to do as a public health professional. Our courses promote teamwork with peers to create a collaborative learning environment for students.
Program Outcomes
Students will:
define public health and related roles and responsibilities of government, non-government agencies, and private organizations
describe risk factors and modes of transmission for infectious and chronic diseases and how these diseases affect both personal and population health
list the leading causes of mortality, morbidity, and health disparities among local regional, and global populations
discuss the role of gender, race, ethnicity, and other evolving demographics in affecting population health
discuss major local, national, and global health challenges
describe how the methods of epidemiology and surveillance are used to safeguard the population's health
communicate health information to a wide range of audiences through an array of media
conduct a literature search on a health issue using a variety of academic and public resources
recognize the impact of policies, laws, and legislation on both individual and population health
analyze ethical concerns and conflicts of interest that arise in the field of public health
Keep This in Mind
The intent of this program is for you to complete two years and then transfer to a four-year college or university.
Some students transfer without getting their associate degree, but officially having your associate degree has many benefits.
Decide which four-year school you plan to attend right away. See your advisor. Your decision will affect the electives you will take.
There are many opportunities for hands-on practical/experiential learning.
Admission Criteria
Admission to this program requires that students be high school graduates or have high school equivalency diplomas (HSEs). If students are not high school graduates, they may be eligible for admission to the College's 24 Credit Hour Program. If students are home schooled, they may be eligible for admission.
Transfer Options
SUNY Orange has special relationships with upper-level colleges and universities for transfer. These transfer institutions include:
SUNY Albany (Public Health)
SUNY Old Westbury (Health and Society)
Your Career Coach
Career opportunities exist in the following fields:
biostatistics
health informatics
environmental health
global health
management policy advisor
industrial hygienist
bioterrorism researcher
Program Availability Status
Courses leading to the Public Health degree are available in person on the Middletown and Newburgh campuses, as well as online. It is an open enrollment program offered in collaboration with the Hudson Valley Educational Consortium (HVEC).