Office Technologies
---
CAREER DEGREE
MIDDLETOWN CAMPUS
DISTANCE LEARNING
---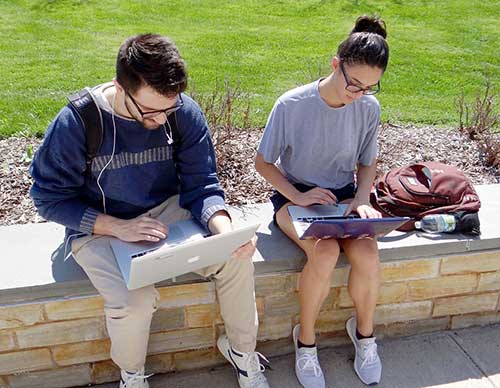 Accredited by
Accreditation Council for Business Schools and Programs (ACBSP)
7007 College Boulevard, Suite 420
Overland Park, KS 66211
Program Description
The Associate in Applied Science degree program in Office Technologies prepares graduates to begin their careers as office assistants. Three special emphasis areas are provided: legal office assistant, office manager, and secretary/word processing. Specialized courses combine with the common core courses to prepare graduates to enter the office support staff.
The office assistant provides office support to employers in a wide variety of settings. This support includes document production, computer software capability, records management, telephone interaction, customer service, keyboarding and data entry.
Students learn to use modern office equipment and, through internships, are exposed to realistic office situations. The internship experience includes 90 hours of office work with a cooperating employer along with weekly meetings with the College instructor. Topics for these meetings include: minute-taking instruction, telephone techniques, human relations issues, problem solving, the resume and interview, and the creation of a professional portfolio.
This degree has been approved by ACBSP and SUNY NYS Education Department for online distance learning delivery. This does not mean that SUNY Orange offers every course in the program online; however, many are offered in this format. Please check the current credit course schedule for online DL virtual course listings offered each semester.
A Day in the Life ...
The Associate in Applied Science degree program in Office Technologies prepares graduates for a broad array of jobs, perhaps more than any other career. You can choose from office management, legal office assistant, or secretarial/word processing. The choice is up to you!
Three Reasons to Consider Office Technologies
Three emphasis areas allow you to choose your preferred area of expertise: office manager, legal office assistant, or secretary/word processor.
Internship opportunities exist for those who want to build their resumes working for regional companies.
Our program is nationally accredited by the Accreditation Council for Business Schools and Programs (ACBSP).
Program Outcomes
Students will:
demonstrate the ability to keyboard in correct form business correspondence, which includes letters, interoffice memos, email, forms, reports, tables, legal documents and financial statements
demonstrate the ability to keyboard straight copy for five minutes with a maximum of three errors
effectively communicate both orally and in written documents
understand the concepts of current information and word processing functions through the successful completion of learning exercises, application problems and exams at a personal computer workstation
learn critical thinking skills through an analytical business report project
Keep This in Mind
This program includes core courses using modern office equipment in computer labs. There are many office jobs available in both the Hudson Valley and nationally.
Admission Criteria
Admission to this program requires that students be high school graduates or have high school equivalency diplomas (HSEs). If students are not high school graduates, they may be eligible for admission to the College's 24 Credit Hour Program. If students are home schooled, they may be eligible for admission.
All students begin with Introduction to Keyboarding and Office Applications to build basic keybaording proficiency.
Transfer Options
While the A.A.S. is a degree that prepares youfor employment, SUNY Orange students have successfully transferred to:
Franklin University (to another related degree)
Mount St. Mary College
Ramapo College
SUNY Empire State College
Your Career Coach
Career opportunities exist in the following fields:
service
education
travel
entertainment
manufacturing
legal and medical
insurance
industrial
media/advertising
Program Availability Status
This program is available during the daytime on the Middletown campus. Some coursework is available online