New Media
---
CAREER DEGREE
MIDDLETOWN CAMPUS
DISTANCE LEARNING
---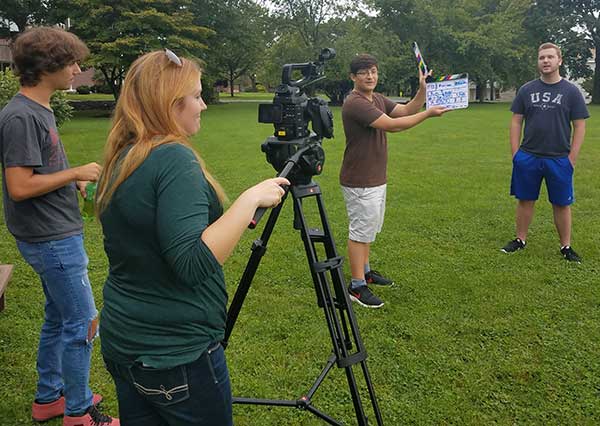 Program Description
The purpose of the New Media Program is to prepare SUNY Orange students with the skills needed to pursue a career in the field of video, audio, and/or digital film production. Graduates of this program will be proficient in visual composition using different forms of digital media such as video, photography, web design and art. Graduates will also be proficient in audio production, specifically, digital radio production, sound design, and audio engineering. This course of study is designed for students seeking career opportunities in television production, film production, audio production, screenwriting, news broadcasting, and media development. Students may also transfer to a four-year institution upon graduation.
This degree has been approved by SUNY and NYS Education Department for online distance learning delivery. This does not mean that SUNY Orange offers every course in the program online; however, many are offered in this format. Please check the current credit course schedule for online DL virtual course listings offered each semester.
A Day in the Life ...
As a New Media professional, you will be immersed in technology and communications. Your daily tasks demand not only passion and creativity, but also awareness of the different forms of content that are emerging across multiple platforms. You must continually learn how to engage a new audience. At the end of the day, you will discover that your role in today's media landscape is to maximize the potential of technology to impact storytelling and reinforce it with purpose and integrity.
Three Reasons to Consider New Media
Hands-on engagement with media technology.
Content is in high demand as more streaming platforms emerge.
Creativity can never be automated, and the digital artist will never be rendered obsolete.
Program Outcomes
Students will:
demonstrate knowledge of communication theories and history of mass media
utilize creative software that is standard in the media industry
demonstrate a working knowledge of the audio and video production process from pre-production and production to post-production
demonstrate a working knowledge of the individual functions of a production crew and exhibit proficiency in each role
demonstrate the application of video/audio synchronization and composition
demonstrate fundamental understanding of media business practices
develop a personal writing process that culminates in the creation of a short film, scripted, taped, edited and produced by the student
create a portfolio containing work developed throughout the program
Keep This in Mind
ART 230 requires 45 hours of practicum experience and should be taken during the third or fourth semester
* You must own a USB 3.0 hard drive with a capacity of 1TB or higher
* You should be prepared for intensive collaboration and project management
Admission Criteria
Admission to this program requires that students be high school graduates or have high school equivalency (HSE) diploma. If students are not high school graduates, they may be eligible for admission to the College's 24 Credit Hour Program. If students are home schooled, they may be eligible for admission.
Transfer Options
While the A.A.S. degree leads to immediate employment, SUNY Orange students have successfully transferred. Please check with your intended transfer school for details.
Your Career Coach
Career opportunities exist in the following fields:
television production
film production
audio production
Program Availability Status
This program is offered on the Middletown campus. Courses are available during the daytime and evening, as well as listed for Fall and Spring semester consideration. A selection of courses can also be taken online.