Exercise Studies
---
TRANSFER DEGREE
MIDDLETOWN CAMPUS
---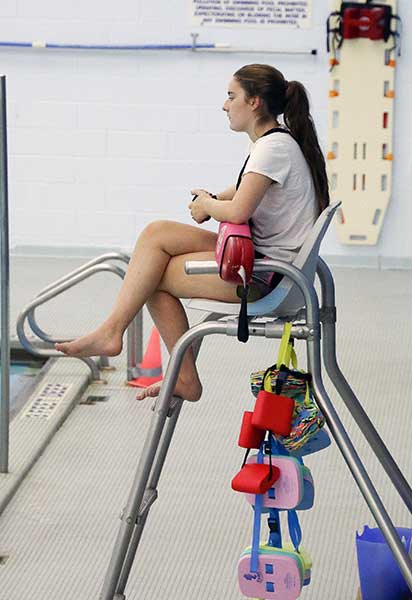 Program Description
The Associate in Science degree program in Exercise Studies is designed for students who are interested in professional areas of fitness and exercise specialties in a variety of physical fitness/health promotion programs. This program prepares students to pursue further education and careers in such fields as athletics, medicine, instruction, research and community health. Completing this degree program, students will have built a base of knowledge and be prepared for transfer to four-year programs including physical education, health and wellness programs, exercise physiology or nutrition.
The theoretical coursework is concentrated in the areas of human movement, exercise physiology, exercise prescription and fitness assessment. These classes give students a broad background in, as well as a practical experience with, the mechanics and physiology of the human body with regard to fitness, health and well-being. The Exercise Studies students complete specific lifetime and sport skills coursework. In addition, students complete coursework in a broad liberal arts education; this work includes study in arts, foreign language, english, history, and sociology.
Career and Transfer Focus
This degree opens the door to a variety of health- and fitness-related careers, including athletic training, fitness training, health educator, physical education teacher, strength and conditioning coach, and other healthcare fields. Our graduates pursue advanced study in athletic training and exercise physiology as well as health-related areas such as physical therapy, occupational therapy, physician assistant, chiropractic and sports medicine.
Three Reasons to Consider Exercise Studies
Take two years here, save on tuition costs, and then transfer to a four-year college or university.
Benefit from personal attention in small classes as well as ongoing individualized academic and professional advising.
Through a hands-on curriculum, you will learn to help people lead healthier lives through exercise, fitness and nutrition.
Program Outcomes
Students will:
learn and demonstrate problem solving, critical thinking and ethical behavior according to industry standards in the field of exercise science
analyze, design, implement and evaluate health promotion and wellness education materials, nutritional projects, sport and fitness conditioning programs and recreational pursuits
interpret health status, risk stratification and physical assessment, data employing national standards to produce: exercise prescriptions, health interventions and behavior modification
communicate expressively and receptively (verbal, non-verbal, written) both individually and within groups in ways that are respectful
demonstrate, instruct, and modify exercise using proper form and technique to ensure safe execution in accordance with industry standards and guidelines
practice personal and social behaviors that exemplify commitment to and value of personal lifelong health, wellness and fitness
prepare and sit for a national certification in personal training and/or group fitness instructor
Keep This in Mind
The intent of this program is for you to complete two years and then transfer to a four-year university.
Decide which four-year school you plan to attend right away. See your advisor. Your decision will affect the electives you will take.
Engage with the latest technology for exercise testing in our Human Performance Laboratory. You will have the opportunity to develop exercise training initiatives and work with clients in our fitness center, gaining valuable experience in testing, programming, and interpersonal skill-building.
Admission Criteria
Admission to this program requires that students be high school graduates or have high school equivalency diplomas (HSEs). If students are not high school graduates, they may be eligible for admission to the College's 24 Credit Hour Program. If students are home schooled, they may be eligible for admission.
In addition, students must declare themselves exercise studies majors and meet with a Movement Science faculty member to review their career goals and course selections. Once students are accepted, they are required to attend one of the program orientation sessions.
Transfer Options
SUNY Orange has special relationships with upper-level colleges and universities for transfer. These transfer institutions include:
Dominican College
East Stroudsburg University
Montclair State University
Queens College
SUNY Brockport
SUNY Cortland
Your Career Coach
Career opportunities exist in the following fields:
athletic trainer
cardiac technician
coach
director of recreation
exercise physiologist
health instructor
personal trainer
physical educator
recreational therapist
strength and conditioning coach
sports agent
sports equipment designer
weight management specialist
wellness coordinator
cardiopulmonary rehabilitation specialist
community health director
Program Availability Status
This program is available during the daytime with a traditional in-class format on the Middletown campus.