Early Childhood Development and Care A.A.S.
---
CAREER DEGREE
MIDDLETOWN CAMPUS
---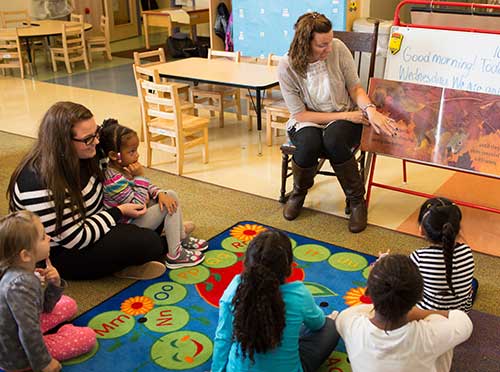 Program Description
The Associate in Applied Science degree program in Early Childhood Development and Care prepares students for employment in positions ranging from teaching assistant to head teacher in an early childhood setting. (Note: In order to be a Universal Pre-Kindergarten Teacher, a four-year degree is required. Please see an Education Department advisor to determine the appropriate transfer degree program.) This program introduces and reinforces theories of childhood development, caring for and educating young children in developmentally appropriate ways, and the operation and management of early childhood settings.
The Early Childhood Development and Care program focuses on developing critical thinking skills that promote the use of applied knowledge in both the college classroom and in early childhood settings. While engaged in this program, students will have the opportunity to apply education principles, receive individual guidance and feedback, and develop the personal and practical skills needed to care for and educate young children. Students will participate in a variety of field experiences in local area early childhood centers, ranging from observation to full participation in planning and implementation of learning experiences. Upon completion of coursework, students will have accumulated nearly 250 hours of field experience.
A grade of C or better is required in all EDU courses for progression in the program and graduation with an A.A.S. or Certificate in Early Childhood Development and Care.
A Day in the Life ...
Working in a preschool or childcare center, you will shape the lives of young children. As a strong early childhood professional, you will work closely with children and their families to provide play-based learning that supports the development of the whole child. You will have the opportunity to nurture young children as they imagine, experiment and discover new concepts daily.
Three Reasons to Consider Early Childhood Development and Care
Experienced faculty members, with classroom teaching experience provide students with extensive support in achieving learning goals.
You will have many observation hours in local childcare centers, which bring classroom instruction to life.
You will have access to developmentally appropriate early childhood instructional materials, which are integrated into college classes in our Hands-on Learning Laboratory.
Program Outcomes
Students will:
demonstrate a firm foundation of knowledge in child development
understand essential concepts of developmentally appropriate practices in teaching young children
understand and value the importance of children's diverse families and communities, and how to use that knowledge to foster respectful, reciprocal relationships with children and their families
understand the goals, benefits, and uses of assessment, and be able to effectively use developmentally appropriate observation and assessment practices
design, implement and evaluate developmentally appropriate curriculum and environments for young children
understand and uphold ethical standards and other professional guidelines in the field of early childhood, and engage in, practice that is both collaborative and reflective in college classrooms and through extensive field assignments
demonstrate college level proficiency in written and oral communication, critical thinking, and analytical, mathematical, and scientific reasoning
Keep This in Mind
EDU 203 (Fall semster only) and EDU 204 (Spring semester only) are our "student teaching" courses, and are designed to be taken sequentially during your final academic year in the program.
Students will engage in nearly 250 hours of field work during the course of the program. A background check, medical clearances, and fingerprinting may be required.
Students in this program often successfully enter the workforce immediately after graduation.
Students will create a professional teaching portfolio, which will be useful at job interviews.
Admission Criteria
Admission to this program requires that students be high school graduates or have high school equivalency diplomas (HSEs). If students are not high school graduates, they may be eligible for admission to the College's 24 Credit Hour Program. If students are home schooled, they may be eligible for admission.
Transfer Options
While the A.A.S. degree leads to immediate employment, SUNY Orange students have successfully transferred. Please check with your intended transfer school for details.
Your Career Coach
Career opportunities exist in the following fields:
center director
head teacher (non-public settings)
teacher assistant
family child care provider
early childhood business owner
nanny or au pair
early intervention specialist
recreation leadership
home visitor
childcare resource and referral
curriculum consultant
Program Availability Status
A portion of the program can be taken online. All education courses are offered only on the Middletown campus, with the exception of EDU 107, which is also offered in Newburgh. One evening class will be required to complete the program. General education courses are offered on both the Middletown and Newburgh campuses.