Dental Hygiene
---
CAREER DEGREE
MIDDLETOWN CAMPUS
---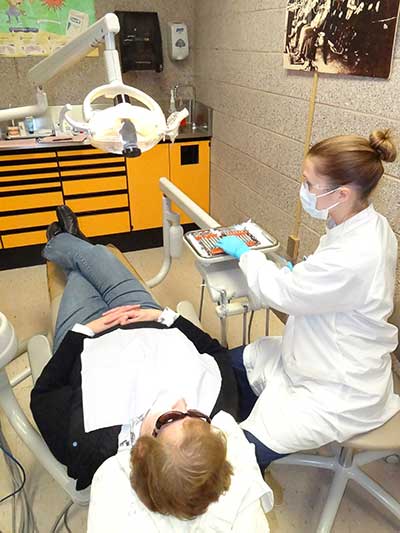 Accredited by:
Commission on Dental Accreditation, American Dental Association
211 East Chicago Avenue
Chicago, IL 60611
(312) 440-2500.
Program Description
The Associate in Applied Science degree program in Dental Hygiene prepares students for licensing by the State Board for Dentistry of New York to practice dental hygiene. Dental hygienists work under the supervision of a licensed dentist. They provide preventive, therapeutic and educational services within the parameters of the state law governing the practice of dental hygiene. In addition to traditional skills, these responsibilities include the administration of local infiltration anesthesia and nitrous oxide sedation.
The curriculum is focused on the three professional domains: professionalism, health promotion and disease prevention, and patient care. Coursework includes requirements in English, social sciences, the sciences, and program-specific courses and laboratory experiences. In order to develop necessary skills, students first practice on peers. Then they actively participate in clinical dental hygiene experiences in the College Dental Hygiene Clinic, as well as at off-campus sites including hospitals. Dental Hygiene courses are offered once each year. Courses must be taken in the sequence in which they are offered without interruption. Dental Hygiene courses cannot be taken on a part-time basis. A minimum grade of C (75%) is required in all dental hygiene courses. Program requirements for graduation also include portfolio development and case-based clinical case presentations. Membership in the Student American Dental Hygienists' Association is mandatory.
Students who are considering this program must understand that they are required to provide their own transportation to off-campus facilities and are required to purchase their own instruments and related supplies. They must also have a yearly physical examination with a TB test and criminal background check. Upon initial entrance into the program, a negative 10- panel drug test will also be required. The Hepatitis B vaccine is strongly recommended. Students with disabilities should meet with the Coordinator of Special Services upon entering the program. Non-citizen graduates must have permanent residence status to obtain a dental hygiene license in New York State. An individual who has charges pending or has ever been convicted of a felony or misdemeanor and/or has been found guilty of professional misconduct or negligence may not be eligible for licensure. Contact the Office of Professional Discipline, New York State Education Department prior to applying to this program.
Finally, pregnant or potentially pregnant students should note that there is a risk associated with exposure to nitrous oxide gas. Students who are unwilling or unable to sit as patients should not apply to this program.
A Day in the Life...
A dental hygienist is a professional licensed by the state and must have an associate's degree. She or he often works one-on-one with patients performing tasks such as helping to prevent dental disease, applying preventive agents, and taking radiographs (X-rays). Hygienists perform oral cancer screenings, take patients' medical history, take vital signs, and educate patients on ways to improve and maintain good oral health. Other job duties may include applying sealants and fluoride to teeth, teaching patients oral hygiene strategies, such as brushing, flossing and nutritional counseling; making impressions for study casts or models of teeth; and performing documentation and office management activities. Dental hygienists find employment in private dental offices, corporate dental practices, hospitals, public health, higher education, the armed services, marketing and research fields.

Three Reasons to Consider Dental Hygiene
Our Dental Hygiene program provides hands-on training through classroom instruction and participation in a clinical setting.

This program will prepare you for a healthcare job that's in high demand and has opportunities for career growth.

Our Dental Hygiene program includes a clinical setting that mirrors a community dental practice, so you'll have hands-on opportunities to practice skills taught in the classroom and you'll have access to the latest technology such as digital radiographs.
Program Outcomes
Licensure Examination Results:
The Dental Hygiene Program has a 100% pass rate within 6 months of graduation for the National Board Dental Hygiene Examination (NBDHE) for the Class of 2022.
The CDCA-WREB Clinical Board pass rate is 100% within 6 months of graduation for the Class of 2022.
Students will:
Discern and manage the ethical issues of dental hygiene practice in a rapidly changing environment.

Acquire and synthesize information in a critical, scientific and effective manner.

Be concerned with improving the knowledge, skills and values of the profession.

Provide planned educational services using appropriate interpersonal communication skills and educational strategies to promote optimal health.

Initiate and assume responsibility for health promotion and disease prevention activities for diverse populations.

Systematically collect, analyze and accurately record baseline data on the general, oral and psychosocial health status of the patient using methods consistent with medicolegal principles.

Discuss the condition of the oral cavity, the actual and potential problems identified, the etiological and contributing factors, as well as recommended and alternative treatments available.

Provide treatment that includes preventive and therapeutic procedures to promote and maintain oral health and assist the patient in achieving oral health goals.

Evaluate the effectiveness of planned clinical and educational services and modify them as necessary.
Keep This in Mind
There are additional expenses for instruments, uniforms, equipment, professional memberships, and Board exam expenses.
This program is like a full-time job in itself and the faculty recommends that outside work commitments should be 10 hours or less during the semester.
The student's time must be flexible since there will be days when you will need to arrive earlier to prepare and stay later to finish the clinic duties.
Once you graduate from this program, you will find employment, have the potential for economic independence, and be part of a respected alumni group.
Admission Criteria
Academic Requirements:
new, transfer, readmit and seeking 2nd SUNY Orange degree students ONLY: must have a current College application on file

high school diploma or high school equivalency (HSE) diploma required

placement into ENG 101 (Freshman English 1)

eligible to take MAT 102 (Intermediate Algebra) or have successfully completed MAT 101 (Elementary Algebra) or equivalent, with a "C" or higher

completed one of the following within five years of the application deadline: BIO 110 (Intro to Biology), BIO 101 (General Biology I), BIO 115 (Human Biology), BIO 111 (Anatomy & Physiology I), BIO 112 (Anatomy & Physiology II) with a grade of "C" or higher; Passing grade on the Biology CLEP examination; or high school AP Biology (score of 3 or higher) – submit the official AP transcript from College Board. BIO 112 (A&P II) can serve as a substitute for BIO 115 (Human Biology)

completed high school regents (New York State) course or College Prep chemistry course with a grade of 75 or higher, passing grade on the chemistry CLEP examination (no credit will be given, but will count towards meeting admissions criteria), or a college chemistry course (with a lab), all with a grade of "C" or higher and all within five years of the application deadline

students must attain a minimum cumulative GPA of 2.5
Department Specific Requirements:
attendance at a Dental Hygiene pre-admission seminar within three years of the application deadline

submit Dental Hygienist Observation Form (16 hour minimum with documentation) within three years of the application deadline
Pre-Admission seminar dates and observation forms are available online.
Note: Admission to this program is selective. Applicants will be considered based on the total amount of non-clinical courses complete, program GPA and Science GPA. For Dental Hygiene, the following courses will be calculated in the Science GPA review: BIO 115, BIO 125 & MLT 106
Attendance (mandatory) at a Dental Hygiene pre-admission seminar within three years of the application deadline where students will receive and sign off on information pertaining to health forms, drug testing, criminal record/criminal background check policies, infectious disease policies/information pertaining to infectious diseases involved in patient care, participation as a student patient, citizenship for licensure, and program policies for infection control, admissions, orientation, and student kits.
All of the academic and department requirements must be completed on or before Feb. 1 in order for a student to be considered for acceptance into the program for the upcoming Fall semester.
Transfer Options
While the A.A.S. degree leads to immediate employment, SUNY Orange dental hygiene graduates can transfer to:
Manhattan College

Massachusetts College of Pharmacy and Health Sciences

Pennsylvania College of Technology
Your Career Coach
Career opportunities exist with:
private practice

hospitals

health service agencies

overseas providers

military branches
Program Availability Status
This program has specific admissions requirements and requires a criminal background check and drug testing. The two-year Dental Hygiene program begins each fall semester in August with a maximum capacity of 20 students. Selection for the program happens through a competitive application process. There is a minimum GPA of 2.5 but the average GPA in the past five years has been between 3.2 and 3.7.
Applicants must maintain high grades in all science and general education courses in the degree to be competitive for admissions. Once in the program students must maintain a GPA of 2.5 and pass all classes with a grade of C. Classes in Dental Hygiene are held on the Middletown campus.