Cyber Security
---
CAREER DEGREE
MIDDLETOWN CAMPUS
---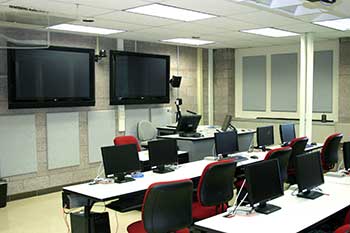 Program Description
The Associate in Applied Science degree program in Cyber Security prepares students for employment in a variety of entry level careers in Cyber Security. Today, everyone is concerned with security, and people with knowledge in this area are in high demand. Positions can include such titles as Network Administrator, network security specialist, information security technician, just to name a few. The main thrust is protection of information and limiting access to network resources. In addition to security, students will also be instructed in techniques used to track perpetrators once an attack has occurred.
In addition to basic computer and networking skills, the student will be instructed in Operating Systems, Computer Forensics, Network Forensics, Information Security, Network Perimeter Security, and Cyber Crime Investigation.
Classes are designed to provide students with hands-on training utilizing state-of-the-art computer facilities. Lab work and assignments will present real world cyber security scenarios encountered in the work place. For forensics studies, industry standard software will be used.
While A.A.S. graduates are prepared to enter the workforce immediately, many students choose to transfer to upper-level programs leading to a bachelor's degree in technology. If students are considering this, they should consult with the department chair and advisors for program planning. Special planning is available for students entering the program with previous college credit or equivalent training/work experience.
A Day in the Life ...
Entry level Cyber Security professionals will often begin their careers understanding and then supporting their company's networks before moving on to playing a vital role in protecting their company's IT infrastructure and data. In this dynamic, constantly evolving field, employees must be committed to staying abreast of new developments and threats in order to defend their environments. The work also includes the responsibility of tracking perpetrators after an attack has occurred. This is a career that will constantly evolve.
Three Reasons to Consider Cyber Security
Cyber Security is a fast growing profession as more companies realize the need to protect their operations and data in order to avoid negative business, social and legal repercussions.
Attacks and theft of data can be devastating to any company's ability to do business. A rewarding career in Cyber Security is one where professionals anticipate these threats and react accordingly.
Our program combines a substantial amount of network training in addition to the main cyber security related topics.
Program Outcomes
Students will:
develop basic networking and computer skills, specifically as they relate to industry environments and practices
demonstrate knowledge of Operating Systems fundamentals and configure and utilize software packages
demonstrate an understanding of network security and forensics and perform computer forensic analysis
develop an understanding of the social, institutional, and legal issues associated with cybersecurity and document appropriate procedures for handling case evidence
Keep This in Mind
Because IT operations can dramatically vary in hardware, software and network configurations, many large companies will provide their own Cyber Security training to those that have already obtained the basic foundation.
It is important that students stay in close touch with their advisors and remain in sequence with the course of study because some of the classes are only offered once per academic year.
All of our networking teachers are Cisco Academy certified instructors.
The industry respected EnCase software is used to teach the Computer and Network Forensic courses.
While the intent is to prepare the graduate for entry level employment, some students do transfer to a 4-year school to earn a higher degree in Cyber Security.
Admission Criteria
Admission to this program requires that students be high school graduates or have high school equivalency diplomas (HSEs). If students are not high school graduates, they may be eligible for admission to the College's 24 Credit Hour Program. If students are home schooled, they may be eligible for admission.
Hudson Valley Educational Consortium students from Sullivan County Community College or Ulster Community College who plan to register for Cyber Security courses must apply to and be accepted into the program by the following dates: August 15 for a Fall semester; and December 15 for a Spring semester.
Transfer Options
SUNY Orange has special relationships with upper-level colleges and universities for transfer.These transfer institutions include:
Your Career Coach
Entry level career opportunities exist in the following areas:
network administrator
network security specialist
computer crime investigation
Program Availability Status
The Cyber Security program is available during the daytime at the Middletown campus. Most of the required courses have daytime and evening sections from which to choose, but of the five required "cyber security courses, only one of them is offered in the evening each semester (on a rotating basis).