Criminal Justice - Police
---
CAREER DEGREE
MIDDLETOWN CAMPUS
NEWBURGH CAMPUS
DISTANCE LEARNING
---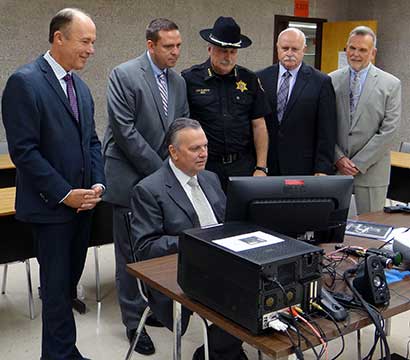 Program Description
The mission of the SUNY Orange Department of Criminal Justice is to provide qualitative educational programs in the areas of Law, Justice, Corrections and Law Enforcement. Through this programming, our students develop skills and knowledge that prepares them to continue their education and/or to pursue entry level careers in the field of criminal justice.
The Associate in Applied Science (A.A.S) degree program in Criminal Justice–Police is aimed at students who do not anticipate continuing their studies at a four-year institution because they envision themselves entering the workforce directly upon graduating. As a result, the A.A.S. degree does not have the same math or science requirements as the A.S. degree, though many of the other required courses in the A.A.S. degree are identical to those required by the A.S. degree. The A.A.S. provides students with the college credits often required by many local, state and federal criminal justice agencies so it is intended to prepare students for entry level positions in law enforcement, security, law, probation, parole, juvenile justice and investigations. All instructors, in addition to their advanced educational backgrounds, are experienced practitioners in their fields.
This degree has been approved by SUNY and NYS Education Department for online distance learning delivery. This does not mean that SUNY Orange offers every course in the program online; however, many are offered in this format. Please check the current credit course schedule for online DL virtual course listings offered each semester.
A Day in the Life ...
The Associate in Applied Science (A.A.S.) degree program in Criminal Justice-Police is aimed at students who do not anticipate continuing their studies at a four-year institution because they envision themselves entering the workforce directly upon graduating. Some of the career opportunities in the justice system include police officer, corrections officer, sheriff, dispatcher, court officer, parole officer and probation officer. The AAS in criminal justice program will provide students with the opportunity to earn the college credits that many law enforcement agencies require for entry level positions while providing them with a strong academic foundation for career success.
Three Reasons to Consider Criminal Justice-Police
The SUNY Orange teaching faculty are well credentialed and possess practical experience that they bring to the classroom in all areas of the justice system.
Many of our alumni are currently enjoying careers in the New York State Police, the New York City Police Department, New York State Corrections, the Orange County Sheriff's Department, and numerous other federal, state, and local law enforcement agencies throughout the country. A few of our graduates are also practicing attorneys and hold positions in corporate and industrial security firms.
Our internship program allows students to engage in experiential learning with our local partners in the criminal justice system and is invaluable in providing students with a close-up view of law enforcement and its real-life challenges.
Program Outcomes
Upon completion of this program, students will demonstrate an understanding of:
the components and functions of the criminal justice system (police, courts, corrections)
the common concepts relevant to the criminal justice system and be able to assess and discuss these concepts
our legal system, constitutional law, procedural law and substantive law
the importance of diversity and ethics and their impact and relevancy within the criminal justice system
the effective use of oral and written communication skills
Keep This in Mind
Students should register for courses as early as is practical. This will give them more flexible scheduling options.
Students should visit the Department of Criminal Justice offices on the Middletown campus (Hudson Hall Room 103) or the Newburgh campus (Tower Building Room 317) and pay particular attention to the bulletin boards which often contain career information and civil service exam announcements.
Students should consider joining the SUNY Orange Criminal Justice Club, which meets on the Newburgh and Middletown campuses.Clubs regularly visit police academies, sheriff's departments, courts, and other law enforcement locations.
Admissions Criteria
Admission to these programs requires that students be high school graduates or have high school equivalency diplomas (HSEs). If students are not high school graduates they may be eligible for admission to the college's 24 credit hour program. If students are home schooled, they may be eligible for admission.
Transfer Options
SUNY Orange graduates can seamlessly transfer to four-year SUNY campuses. The College also has special relationships with other upper-level colleges and universities for transfer. These transfer institutions include:
Alfred University
Berkley College
John Jay College of Criminal Justice
Marist College
Mount St. Mary College
Pace University
St. Thomas Aquinas
St John's University
Your Career Coach
Career opportunities exist in the following fields:
Federal Bureau of Investigation (FBI)
Immigration and Naturalization Service (INS)
park police
postal inspector
secret service agent
secret service uniformed
deputy sheriff
state police/trooper
police officer
district attorney
defense counsel
corrections officer
forensics specialist
court clerk
ballistics specialist
fingerprint specialist
security
Program Availability Status
The SUNY Orange Criminal Justice-Police program is available on both the Newburgh and Middletown campuses and many courses are offered in both day and evening sessions. In addition, many of our courses are available online.
The requirements of this degree can be completed entirely on either the Middletrown or Newburgh campuses.
Students will be assigned a faculty advisor who can help answer any questions they might have regarding classes, scheduling, etc. All teaching faculty have weekly office hours during the Fall and Spring semesters and are usually available at other times by appointment. If you need to contact a faculty member we encourage you to email them. Email addresses can be found on the Criminal Justice Department website.