Clerical Office Assistant
---
CAREER CERTIFICATE
MIDDLETOWN CAMPUS
DISTANCE LEARNING
---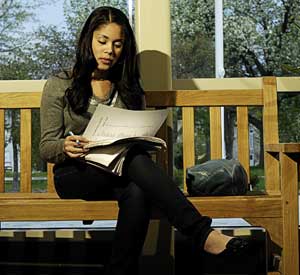 Program Description
The Clerical Office Assistant certificate program provides the opportunity for graduates to either begin their careers as office assistants or to update their current office skills for re-entry into the business world. Areas of concentration include information processing, data entry, business communications and information management. This certificate works well when stacked with an A.S. or A.A.S. degree program to update or diveristy your skill level.
The office assistant provides office support to employers in a wide variety of settings. This support includes document production, computer software capability, records management, telephone interaction, customer service, keyboarding and data entry.
Students take a sequence of office skills courses such as keyboarding, Microsoft Word and PowerPoint, Excel and Access, and transcription. They also learn to compose business documents through the Business Communications course and to manage office documents through the Records/Information Management course.
Students learn to use modern office equipment and computer software as they apply to various work environments. Microsoft Office (Word, Excel, PowerPoint, and Access) skills are develooped. To complete this program in one year, students must have basic keyboarding skills before enrolling in the program.
This certificate has been approved by SUNY and NYS Education Department for online distance learning delivery. This does not mean that SUNY Orange offers every course in the program online; however, many are offered in this format. Please check the current credit course schedule for online DL virtual course listings offered each semester.
A Day in the Life ...
The Clerical Office Assistant Certificate offers you a one-year introduction to general business office literacy skills and concepts. A supplement to an AAS degree to gain knowledge of the keyboarding, office applications, the Microsoft Office Suite and information management. This certificate assumes you have basic English and Math skills.
Three Reasons to Consider This Program
Small classes to give you individual attention and provide individual encouragement from credentialed faculty.
Develop introductory office management skills to begin building a career in office management.
Nationally accredited by the Accreditation Council for Business Schools and Programs (ACBSP).
Program Outcomes
Students will:
demonstrate the ability to keyboard business correspondence using various computer software programs in word/information processing.
demonstrate the ability to keyboard straight copy for five minutes with a maximum of three errors.
understand computer concepts and applications for the office environment.
learn critical thinking skills through an analytical business report project.
Keep This in Mind
Students learn information and records management that allow for entry into an front office.
Detailed classes in Word, Excel, PowerPoint and Access are provided to enhance the understanding of real-world office applications.
Admissions Criteria
Admission to this program requires that students be high school graduates or have high school equivalency diplomas (HSEs). If students are not high school graduates, they may be eligible for admission to the College's 24 Credit Hour Program. If students are home schooled, they may be eligible for admission.
Transfer Options
While this certificate program prepares you for job placement upon completion, all courses taken for this certificate may be applied to the A.A.S. Office Technologies degree program at SUNY Orange.
Your Career Coach
Career opportunities
service
education
travel
entertainment
manufacturing
legal & medical
insurance
industrial
media/advertising
Program Availability Status
This program is available during the daytime on the Middletown campus. Some coursework is offered online.