Nursing
---
CAREER DEGREE
MIDDLETOWN CAMPUS
NEWBURGH CAMPUS
---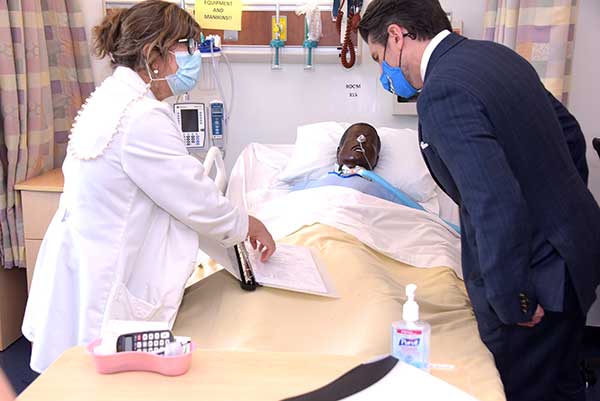 Accredited by
Accreditation Commission for Education in Nursing (ACEN)
3390 Peachtree Road NE, Suite 1400
Atlanta, GA 30326
Phone: 404-975-5000 | Fax: 404-975-5020 | www.acenursing.org
email: info@acenursing.org
and
The State Education Department/Division of Professional Education
Professional Education Program Review Education Building, 89 Washington Ave. 2nd Fl West Wing
Albany, NY 12234
Phone: 518-486-2967 | Fax: 518-473-0114
Program Description
The Associate in Applied Science degree program in Nursing prepares students to become registered nurses. It provides for the development of those competencies expected of registered nurses in general nursing practice at the technical level. Emphasis is on direct client care within a career in nursing.
Through study in the humanities, biological and social sciences, and the experience of academic life, the student gains an understanding of the value of the individual and their contribution to society. This curriculum combines general education courses and nursing courses with laboratory and clinical experiences, during which students have the opportunity to care for clients in a variety of healthcare settings. Due to limited availability of clinical experience in some areas, students may be assigned to evening and/or weekend clinical experiences. Evening students may also be assigned to attend a day clinical during the semester. Students' personal schedules will have to be adjusted to allow for these required opportunities. Students gain clinical experience in long-term care, medical-surgical, maternal/child and mental health nursing. A variety of teaching methods is employed to integrate the classroom with the clinical experience.
A Day in the Life ...
Nurses provide emotional and physical support to individuals and families throughout the lifespan in a variety of healthcare settings. They must use excellent communication skills and extensive technological know-how as they care for and advocate on behalf of clients. Critical thinking and good clinical judgment are the keys to excellence in nursing.
Three Reasons to Consider Nursing
First associate degree Nursing program in the United States
Highly respected in the community, with highly qualified, diverse faculty
Many options exist for career paths and advancement in the profession
Program Outcomes
Program Learning Outcomes:
the student will utilize the nursing process reflecting sound nursing judgment and critical thinking skills to resolve clinical and professional problems
the student will demonstrate effective use of interpersonal skills and informatics to ensure effective communication with patient/families and the members of the health care team
the student will apply evidence-based standards of nursing practice to provide safe quality care to a diverse population across a multitude of settings
the student will demonstrate responsibility and accountability for self-growth with a commitment to the profession, exhibiting a spirit of inquiry and a passion for excellence
Program Outcomes:
the NCLEX passing rate will exceed or be equal to the mean for New York State and the Nation
program completion rate will be 70% within 3 years of admission into the nursing program
at least 90% of the graduates responding to the graduate survey will report satisfaction with the nursing program
at least 90% of the alumni responding to the alumni survey will value lifelong learning as evidenced by their stated intention to be enrolled in a BSN program
at least 90% of the alumni responding to the alumni survey will be employed in nursing within 9-12 months after graduation
at least 90% of the employers responding to the employer survey distributed within one year after graduation will indicate satisfaction with graduate performance
Keep This in Mind
After completion of our A.A.S. in Nursing, graduates are eligible to take the National Council Licensure Exam (NCLEX) for the Registered Professional Nurse.
Graduates should plan on moving into an RN-to-BSN (Bachelor's in Nursing) program due to the new BSN in 10 years law recently passed.
If additional courses besides the program-specific courses are taken, they should be ones that can be useful for transfer to a Bachelor's of Nursing program.
Nursing is a high-impact, high stakes work environment which is very challenging as well as rewarding.
Admission Criteria
Academic Requirements:
high school diploma or high school equivalency (HSE) diploma
eligible to take ENG 101 (Freshman English I)
eligible to take MAT 102 (Intermediate Algebra), or have completed MAT 101 (Elementary Algebra) or equivalent with a 2.0 or higher
eligible to take BIO 111 (Anatomy and Physiology I): may be met by successful completion of one of the following: BIO 110 (Intro to Biology) with a 2.0 or higher; or High School AP Biology (score of 3, 4, or 5); or a passing grade on the Biology CLEP examination.
successful completion of High School Regents Chemistry, or its equivalent with a grade of 75 or higher; or High School AP Chemistry (score 3, 4 or 5); CHM 100 (Intro to Chemistry); or a college Chemistry course (with lab) with a grade of 2.0 or higher; or passing grade on the Chemistry 1 CLEP examination within 10 years of application deadline. (Please note: SUNY Orange does not offer credit for the Chemistry CLEP, but it can be submitted as evidence of meeting this criteria)
students must attain a minimum cumulative GPA of 2.75
Department-Specific Requirements:
completion of an online pre-admission seminar. By viewing this presentation, students will receive information pertaining to health forms; program standards and policies; mandatory CPR certification; and criminal record and drug screening policies. The online seminar is available at www.sunyorange.edu/nursing/preadmission.shtml.
applicants for the Nursing program will be required to take the ATI Test of Essential Academic Skills (ATI TEAS). A score of "basic" is required for admission consideration. A score of "proficient" or higher is recommended. Visit www.sunyorange.edu/testing/services.shtml for test information, and scheduling.
the Nursing Department will review transcripts of those students who have been enrolled in a health professions program at SUNY Orange or another college
all students must submit to a criminal background check, urine drug screening, and physical examination which includes required immunizations, a tuberulosis test, and urine drug screening
Note: Admission to this program is selective. Students must apply for acceptance into this program using the Health Professions online application through the Admissions Office. Consideration for admission is based on the completion of all mandatory academic and departmental-specific eligibility requirements, highest combination of science GPA, total GPA, TEAS score and credits completed towards the degree, and seat availability.
All requirements must be completed and a program application form must be submitted to the Admissions Office before February 1 for the Fall semester at the Middletown campus and October 1 for the Spring semester at the Newburgh campus.
Accepted students must attend an in-person orientation session in order to register for classes.
Effective June 2019, legislation was passed in NY State that requires RNs to obtain a BSN within 10 years of licensure in order to continue practicing. Therefore, students are strongly encouraged to begin planning to continue their education as soon as possible.
Guidelines for Advanced Placement for Licensed Practical Nurses
In order to be eligible to apply through either of the pathways below, students must:
complete BIO 111 (Anatomy and Physiology) and MLT 106 (Microbiology) with a grade of C or higher within 5 years of application
complete ENG 101 (English 1)
complete MAT 101 (Elementary Algebra), or equivalent, or place into MAT 102 or higher
complete high school Regents chemistry or college-prep chemistry with a grade of 75 or higher; high school AP chemistry (socre 3, 4, or 5); or college chemistry course with a lab with a grade of C or better; or passing grade on Chemistry 1 CLEP within 10 years of application
take ATI TEAS exam with a minimum score of "basic"
Successful completion of Nursing Bridge Course (N3029). Information regarding this course will be provided once you are accepted into the LPN/RN program. The course is taken after acceptance into the program and prior to beginning nursing classes during the Winter recess for Spring entrants and during the Summer recess for Fall entrants.
Transfer from a Practical Nursing Program through the SUNY Orange Articulation Agreement with OU BOCES and Ulster BOCES School of Practical Nursing
Graduates of these program may transfer into NUR 102 (Nursing 2: Fundamentals) based on the following criteria:
meet the college and nursing program admission criteria which can be found at www.sunyorange.edu/nursing/ed_mobility.html
attainment of an overall GPA of 85% in the LPN program
graduation within the previous five years
have a letter of recommendation from an OU BOCES or Ulster BOCES practical nursing program instructor
pass the NYS Licensed Practical Nurse Examination
Advance Standing into the Fourth Semester
Licensed Practical Nurses, who have successfully completed NUR 102 (Nursing 2: Fundamentals) may be considered for advanced standing into NUR 202 (Nursing 4: Physical and Mental Illness) after completing the following requirements:
notification of the Nursing department chairperson of your intention to seek advanced standing to NUR 202 by May 1 for Fall semester or Nov 1 for the Spring semester
PN transcript review demonstrates a minimum of 70 clinical hours in Maternal and Child Nursing
a Minimum Score of B on the Excelsior College Examination in Maternal and Child Nursing (baccalaureate) (Official transcripts must be submitted to the Records and Registration Office)
completion of NUR 205: (Pharmacology and the Human Body) with a C or better
Credit for Nursing 101 will be granted after successful completion of Nursing 102 with a grade of C (2.0) or higher. Credit for Nursing 201 will be granted after successful completion of Nursing 202 and 203 with a grade of C (2.0) or higher. Minimum passing grade in all core nursing courses is 75. Nursing 2 and 4 are offered in the Spring semesters on the Middletown campus and in the fall on the Newburgh campus. The offering of these courses out of sequence is never guaranteed and at the discretion of the nursing department based on enrollment and clinical placement availability.
Students will be considered for acceptance into the Nursing Program based on the admission criteria in effect at the time of the request. Please be advised that certain general education requirements are co-requisites with nursing courses. A&P 2 must be taken with or prior to Nursing 2. Introduction to Psychology and Pharmacology must be taken prior to Nursing 4.
LPN to RN program application forms are to be submitted by October 1 to be considered for acceptance into the program for the Spring semester in Middletown, and May 1 for admission consideration for the Fall semester on the Newburgh campus.
Progression Through the Program
A minimum grade of 75% (C) in each nursing course is required for progress in and graduation in nursing. A minimum grade of C is required in all laboratory science courses for progression in the nursing program. Nursing students must complete Freshman English 1 and 2 prior to enrollment in Nursing 3. Required nursing courses must be taken in the prescribed sequence. A student may repeat only one required nursing course one time. Once students are enrolled in the core nursing courses, they are to complete the program in three years. Students interested in admission to the evening nursing program are advised that this is a part-time program limited to 11.5 credits each semester. In order to meet this requirement, all non-clinical courses should be completed prior to starting this part-time program.The day program is two academic years in length if pursued on a full time basis. Because of the intense nature of the Nursing Program, the student may find that part-time study is more appropriate.
LPN to RN students must complete all of the same courses required for the degree as regular-admit students.
Nursing Readmission
Students who withdraw from, fail or receive a grade below "C" in any one of the required nursing courses may apply for readmission to the Nursing program. A student is only allowed to do this one time. Additionally the program is to be completed within three years from the start of the first nursing course. A student seeking readmission must meet the program requirements in effect at the date of re-entry. Readmission is neither guaranteed nor is it an automatic process. Students requesting to be considered for readmission to Nursing 101 are to do so through the Admissions Office. Students requesting to be considered for readmission to NUR 102, NUR 201, NUR 202 or NUR 203 must inform the nursing department chairperson in writing. Written requests must be submitted by May 15t for the Fall semester and December 15 for the Spring semester. Prior to readmission, students are required to successfully complete a special bridge course. To be considered for re-admission a student must have a minimum cumulative GPA of 2.75.
Licensure
Graduates of the nursing program are eligible to apply for the National Council Licensing Examination for Registered Nurses (NCLEX). Completion of the Nursing program does not assure admittance to attempt the RN licensure exam. When submitting an application for licensure and first registration, the applicant is required to report any history of a felony or misdemeanor. The state boards of nursing will review all applicant information submitted and determine if the applicant is eligible for licensure.
Transfer Options
Many of our graduates transfer to upper-level colleges and universities to pursue advanced degrees in the nursing profession. Successful transfer depends on the courses taken and the student's grade point average. SUNY Orange has special relationships with a number of colleges and universities.
Adelphi University
Chamberlain College
Dominican College
Excelsior College
Mercy College
Mount St. Mary College
Pace University
Russell Sage College
SUNY Binghamton
SUNY Delhi
SUNY Empire State
Your Career Coach
Career opportunities exist in the following areas:
hospitals
long-term care settings
community agencies
health maintenance organizations
government
physicians' offices
industry
military
education
nursing specialties
Program Availability Status
The SUNY Orange Nursing Program is a competitive admissions program, with many more applicants than available seats. There are two application opportunities per year: February 1 is the deadline for Fall admission to the Middletown Day and Evening programs; October 1 is the deadline for Spring admission to the Newburgh campus program.