Liberal Arts: Humanities and Social Science
---
TRANSFER DEGREE
MIDDLETOWN CAMPUS
NEWBURGH CAMPUS
DISTANCE LEARNING
---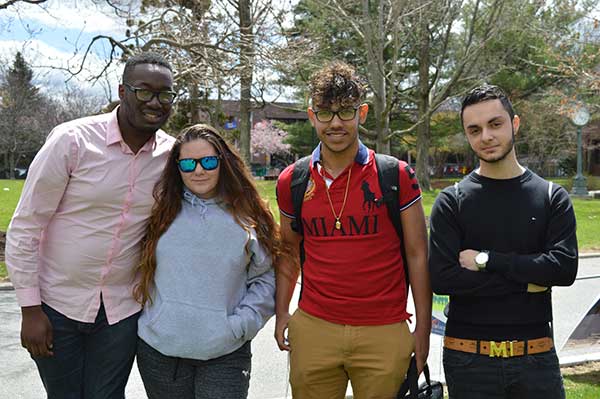 Program Description
The Liberal Arts: Humanities and Social Science Associate in Arts degree program is a transfer degree that provides a broad-based foundation for students to pursue a variety of academic interests. A liberal arts degree focused on humanities and social sciences includes study of humankind's intellectual, historical and creative endeavors and the implications of how humans interact. The value of a strong grounding in the liberal arts is that students will be equipped with broad perspectives, tools to analyze challenging problems, and skills to seek and communicate solutions.
This Associate in Arts degree program is similar to the first two years of many baccalaureate degree programs, in that it prepares students to think and write critically about a range of subject matter. The coursework is designed to flexibly balance exploration of ideas and subjects with transfer preparation.
Students in this degree program will take specific required courses and also have the opportunity to choose from categories of courses and electives. The choice of several electives provides students freedom to customize and focus on a specific discipline, area of interest, or pursuit of specific coursework that is recommended by transfer destinations. SUNY Orange offers seven different registered tracks within the Liberal Arts: Humanities and Social Science degree. Those are: Anthropology, English, History, Music Industry, Political Science, Psychology and Sociology.
By fulfilling a minimum of 30 General Education credits and a minimum of seven of SUNY's general education categories, students are prepared for smooth transfer within the SUNY system and beyond. The General Education categories of the State University of New York (SUNY) are math, natural sciences, social sciences, American history, western civilization, world civilizations, humanities, the arts, foreign language and communication.
An Associate in Arts degree is an excellent choice for students who plan to transfer but may not have all the next steps clearly mapped out. Liberal Arts degrees position students to pursue careers in the social sciences, arts, humanities, communication, education, advocacy, policy and law and many other avenues.
Students should consult regularly with their advisors to determine the best course of study for their particular area of interest and to update their academic plans.
This degree has been approved by SUNY NYS Education Department for online distance learning delivery. This does not mean that SUNY Orange offers every course in the program online; however, many are offered in this format. Please check the current credit course schedule for online DL virtual course listings offered each semester.
Program Outcomes
Students will:
demonstrate foundational knowledge of and an appreciation for the cultural, social, and natural worlds
recognize the diversity of human experience, values, and perspectives
demonstrate an understanding of the forms of artistic expression and their creative processes
apply critical thinking and systematic reasoning skills
demonstrate information management, quantitative skills, and an understanding of the role of empirical measurement
use effective oral and written communication skills
transfer to, and succeed at, an upper-level institution
Keep This in Mind
Seven discipline-specific tracks have been developed in the Liberal Arts: Humanities and Social Science Associate in Arts degree program. Students who follow these tracks will benefit by taking the courses as sequenced and will build a body of knowledge about a specific discipline.
Embedded within the course sequencing of each track are specific courses that align with advising guides (also known as transfer paths) developed by the SUNY system to ensure seamless transfer to baccalaureate degree programs.
The curricula ensure that students will fulfill a minimum of thirty general education credits, seven of ten SUNY general education categories, and coursework in the first two years of study in specific disciplines, thereby ensuring junior-level status when transferring to a school within the SUNY system.
Each track has specific faculty advisors and discipline-related activities that take place throughout the academic year. The seven tracks are:
Admission Criteria
Admission to this program requires that students be high school graduates or have high school equivalency diplomas (HSEs). If students are not high school graduates, they may be eligible for admission to the College's 24 Credit Hour Program. If students are home schooled, they may be eligible for admission.
For students with more defined career goals, see the related four-semester registered track sequences for additional information.
Transfer Options
SUNY Orange has special relationships with upper-level colleges and universities for transfer. These transfer institutions include:
four-year institutions in the State University of New York (SUNY) system
private in-state and national four-year institutions
To provide for a smooth transfer, students should consult with both their academic advisors and the potential transfer institutions for academic course selection and guidance as soon as possible.
Your Career Coach
The Associate in Arts degree program serves as a foundation for students who will complete their bachelor's degree at a four- year institution. They may then pursue careers in a number of areas, including:
the social sciences
the arts
the humanities
education and communication
In addition, successful completion of a bachelor's degree can also lead to continued study on the graduate level.
Program Availability Status
The Liberal Arts: Humanities and Social Science tracks are available during the day and evening on both the Middletown and Newburgh campuses. Courses are also available online. Consult with your advisor to determine which options fit with your schedule and your desired area of focus.